Annual Report 2018 | September 2019
From commitment to action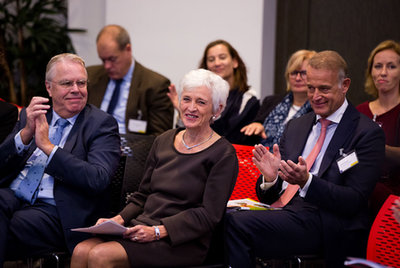 With the Dutch Banking Sector Agreement (DBA), the adhering banks, NVB (Dutch Banking Association), CSOs, trade unions and government parties set themselves a number of ambitious goals to deliver in just three years. Since then, many people have been putting in a lot of hard work to achieve those goals, and their efforts have continued during 2018.

Real commitments, real change
Nevertheless, by the end of Year 1 we had fallen behind schedule, though there were reasons for that. Multi-stakeholder process discussions can take longer than expected, for example due to different interpretations about the agreed commitments and different interests. On a few occasions the parties had to conclude, after some time, that the commitments as formulated in the agreement are not feasible, or need to be adjusted to be effective and practical. The DBA is learning by doing and parties use lessons learned to improve processes and methodologies, which also takes time. Furthermore, there were several changes in those representing the parties at the working group meetings, which sometimes caused delays, since these new representatives needed time to catch up. It also became evident to all involved just how much time and energy it would take to develop a true partnership. One where all parties need to trust one another and agree on specific, tangible goals. Goals that should make a meaningful difference to the lives of real people around the world.
There are two main elements to the DBA: shared initiatives undertaken by parties and adhering banks, and independent initiatives from individual adhering banks. During 2018 some of the ground lost in Year 1 was made up, but by the end of the year we still were not as far as we had hoped. However, Year 3 looks promising, as most objectives seem to be attainable.

Joint milestones
With joint initiatives, discussions on the wording of texts were sometimes protracted, with each party wanting to see their own perspective reflected in the final version. This is understandable, and also reassuring: parties aim to really get behind any agreed proposals, and want those proposals to be significant and lead to genuine change in banks' policies and especially practices. Moreover, progress has been made, particularly on the following milestones achieved in 2018 and early 2019, including the following key publications:
Implementation of first-year reports, such as the Cocoa Value Chain Analysis and Increasing Leverage Working Group report;
The extensive Enabling Remediation report;
The Palm Oil Value Chain report (to be published in September 2019).

Other areas we need to accelerate in Year 3 include finalising the remaining value chain analyses (on Gold and Oil & Gas) and developing useful key performance indicators (KPIs) for reporting on human rights. As of now, achieving these results looks feasible.
Progress within individual banks
Individually, the banks demonstrated their commitment to the DBA in 2018 in a number of ways. After ABN AMRO was the first to report on human rights explicitly in a human rights report, other banks soon followed. Either with a stand-alone report, such as those of Van Lanschot, ING, Volksbank and FMO, or by integrating human rights reporting into their annual reports, as has been done by NIBC and Rabobank. ING, Rabobank, FMO and ABN AMRO have also shown their commitment to the issues of land rights and human rights defenders, and expert sessions on these topics co-organized by Oxfam Novib, Amnesty International, FMO and the NVB were well attended by the banks. It is expected that all Dutch banks will have set the foundation to further the continuous implementation of the OECD Guidelines and UNGPs by the end of Year 3.
In conclusion, there is still much to be done before the end of the DBA period, but some sizable steps have already been taken towards strengthening human rights policies & practices within the banking sector. This agreement lays the foundation for the next steps they and the other parties now need to take. It's time to build on these foundations.
Jacqueline Cramer
Chair, Dutch Banking Sector Agreement